The end-to-end design process for the FitFave mobile app
The ultimate choice for your personalized fitness experience at the best price.
Hard to find effective and affordable fitness options that offers a personalized experience.
16 – 60 year olds who love to keep fit and have a healthy lifestyle.
A personalized and affordable app for fitness lovers to keep fit with their favorites (e.g athletes, trainers).
I was the product manager using an iterative and experimental process. I also created wireframes and mockups to validate the idea early on with users. I also collaborated with another PM to make some decisions.
I conducted open-ended user interviews to explore people's challenges, their motivations and habits in the area of fitness.
Through the interviews, I was able to find out the common pain points and the differences in people's habits.
Two important responses that formed the user personas are highlighted.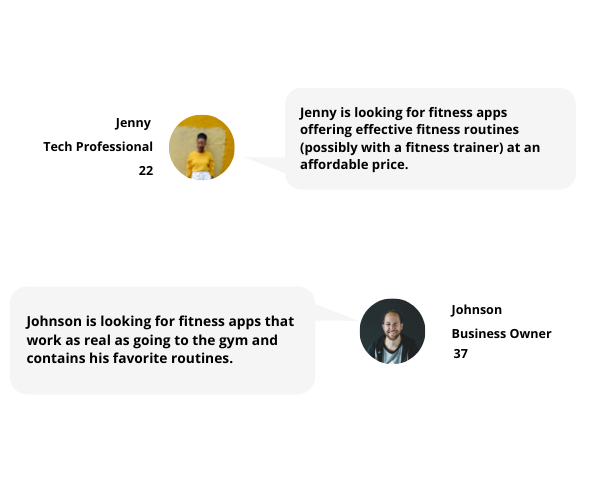 I also did a more detailed research to understand exactly what the competition was doing. Here is a summary of findings.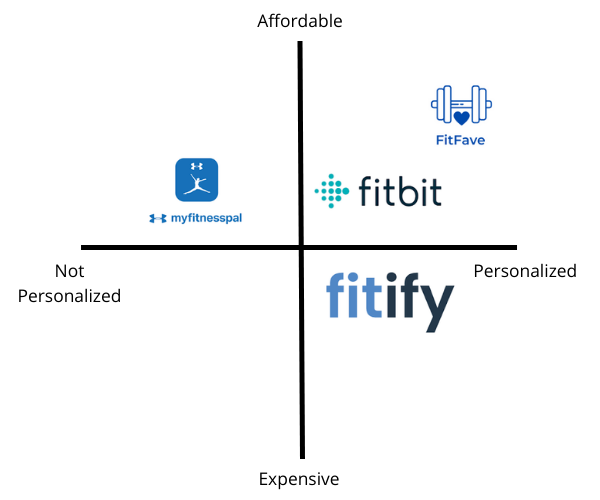 I used data from the discovery research to analyze the user's behaviors, needs and pain points.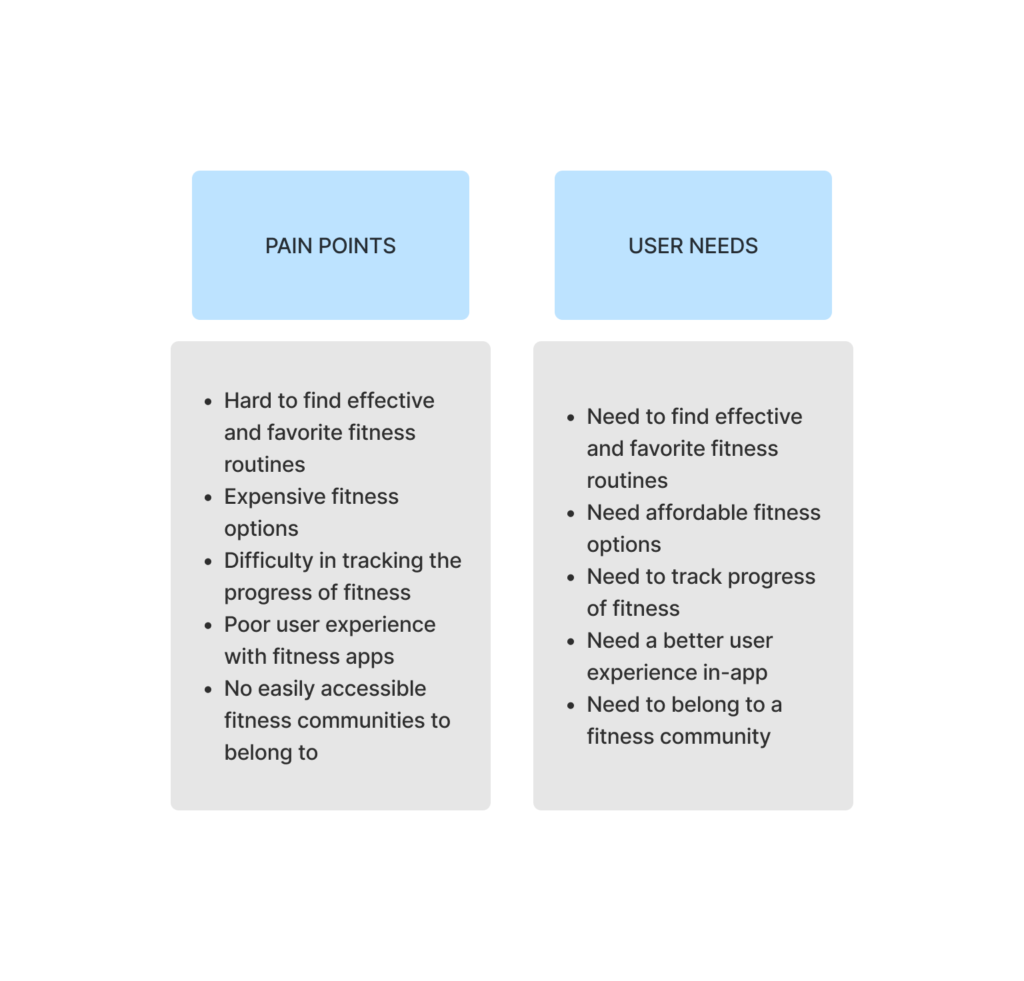 To help me focus on the target users throughout the entire product design process, I worked on the personas based on the discovery research.
Johnson needs a better way get effective fitness routines he can engage in from home, because he doesn't want to go to the gym and feels unmotivated most times while using other fitness apps.
I believe that developing a mobile app that allows users to access fitness routines of favorite athletes, trainers etc, will solve the problem.
We will know it's succeeded based on the number of users actively using it and the number of transactions through the app monthly.
I prioritized the features based on business goals and users goals. The MoSCoW method is an effective and easy way to priorities the features.
Business Goal: Have a large number of transactions going through the app monthly.
Users Goal: Having a personalized and effective fitness experience that keeps them motivated.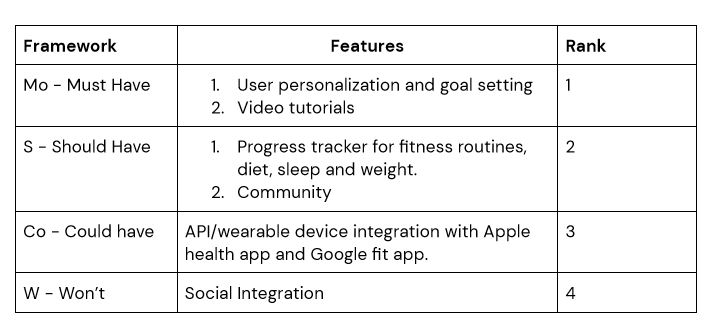 I created the sitemap using FigJam to show the hierarchical structure of all pages available in the app.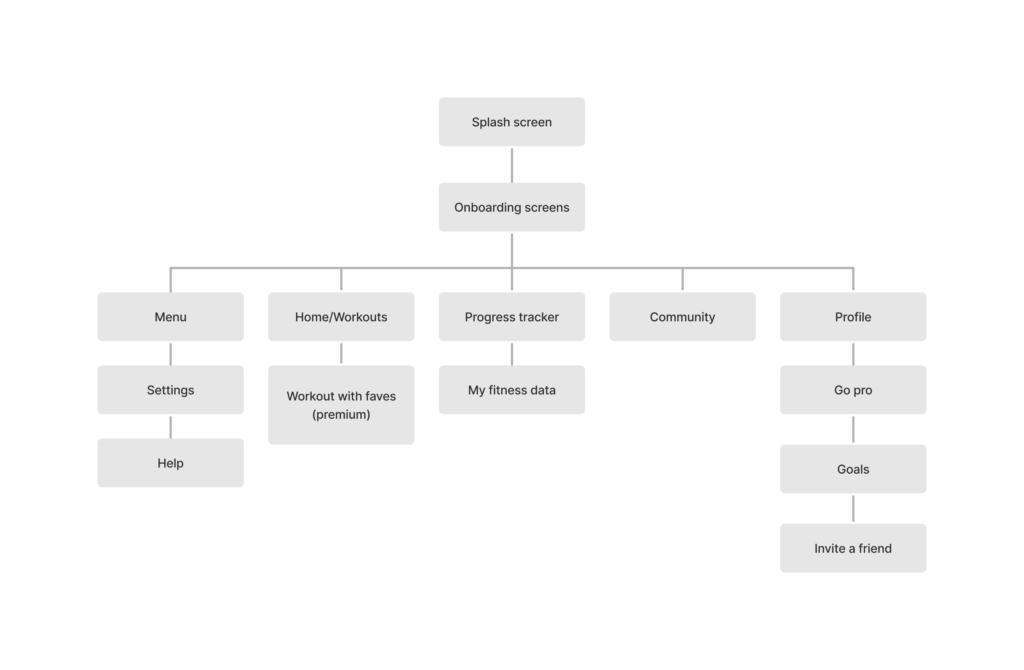 User flow is the path taken by a prototypical user on a website or an app to complete a task. This user flow shows from the start through a set of steps towards finding and engaging in fitness routines.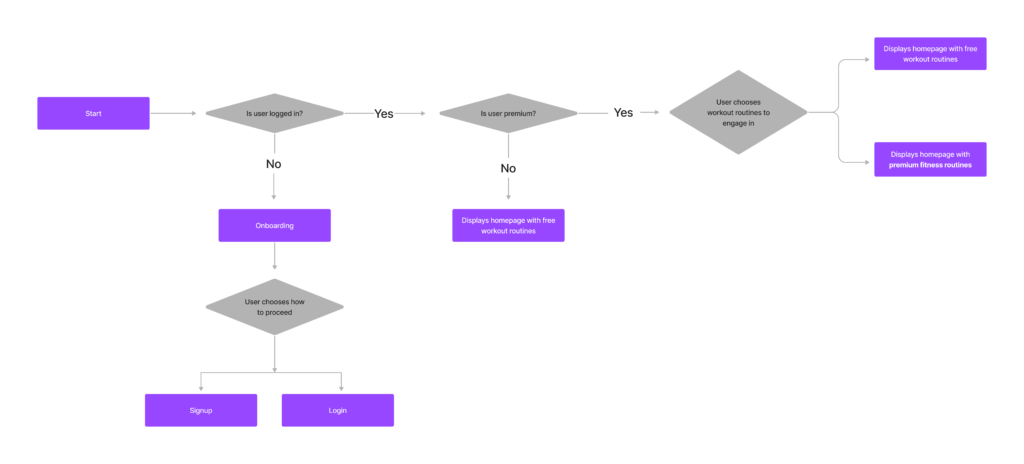 I used a low fidelity prototype to mock up the product quickly and tested the ideas as early as possible.
I analysed the details of the testing result and observed that the users were ready for the hi-fi designs.
I used the high fidelity prototype for more usability and design testing.
I created the clickable prototype with Figma to show the final product experience.
I tested this prototype with users (usability testing), so as to approve a hand-off to the developers.